About Enviroclad

Enviroclad is a Kilkenny-based company established in 1993 to cater for the growing need for hygienic surfaces in the food industry. Today we are at the forefront of PVC building products and have added extensively to our range and services, making Enviroclad one of Ireland's leading companies in this field.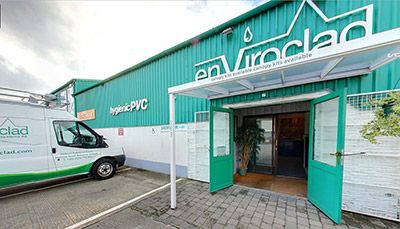 With continued intensity of EU hygiene legislation in the food and meat industry, Enviroclad PVC wall and ceiling cladding systems have outperformed many of the solutions available on the market today. Our high quality, long serving product is non-toxic, has no unhygienic grout and is very easy to maintain.
We have excelled in this country in recent years and have developed a healthy client base, from youthful enterprises to blue chip multinational food companies. Our philosophy of customer service, friendliness and professionalism has earned us a very high reputation in the industry. With our highly skilled and friendly workforce, we will put you - the customer - first and ensure the you are the focal point during all stages of installation.
We look forward to seeing you in-store or online
Owing to our vast experience in this field, we can offer you a free design service, free survey and quotation on any product you choose.
We have the range of stock and experience to meet your needs.